[column width="3/5″ title="" title_type="single" animation="none" implicit="true"]
Local Youth Zone welcomes a number of local businesses to their second Business Breakfast event this month to network, enjoy a free cooked breakfast and hear from an inspirational guest speaker.
Inspire Youth Zone is a world-class facility for young people that gives them somewhere to go, something to do and someone to talk to.
The charity provides a range of activities and opportunities for young people to enhance their potential, learn new skills and make new friends.
The Youth Zone hosts quarterly Business Breakfasts which offer a delicious free cooked breakfast and give guests the opportunity to network with other businesses in Chorley, while learning about all the fantastic work the youth charity delivers to local young people.
The April events guest speaker, Martin Ainscough, is a successful local entrepreneur and founder of the UK's largest crane hire company which sold in October 2007 for over £250,000,000.
A popular Chorley catering company, Scrumpy Pig, have generously agreed to provide breakfasts for the event after founder, Richard Brant, attended the first Business Breakfast in November 2018.
The previous event at the Youth Zone was a huge success with over 100 local entrepreneurs in attendance including the Managing Director of One Stop Hire Ltd., Steve Hitchen.
Steve said: "I'm really looking forward to the second Business Breakfast event at Inspire.
"It's a fantastic opportunity to network with other local businesses and a real eye-opener to the difference Inspire makes to the lives of young people in Chorley.
"It is a wonderful facility and the staff team are amazing."
Inspire Chorley Youth Zone will be having their second Business Breakfast on Friday the 5th April 2019 from 7.30-9am.
There are limited spaces remaining at the coveted event, so to secure your place you can click here or contact fundraising@inspireyouthzone.org today.
[/column]
[column width="2/5″ last="true" title="" title_type="single" animation="none" implicit="true"]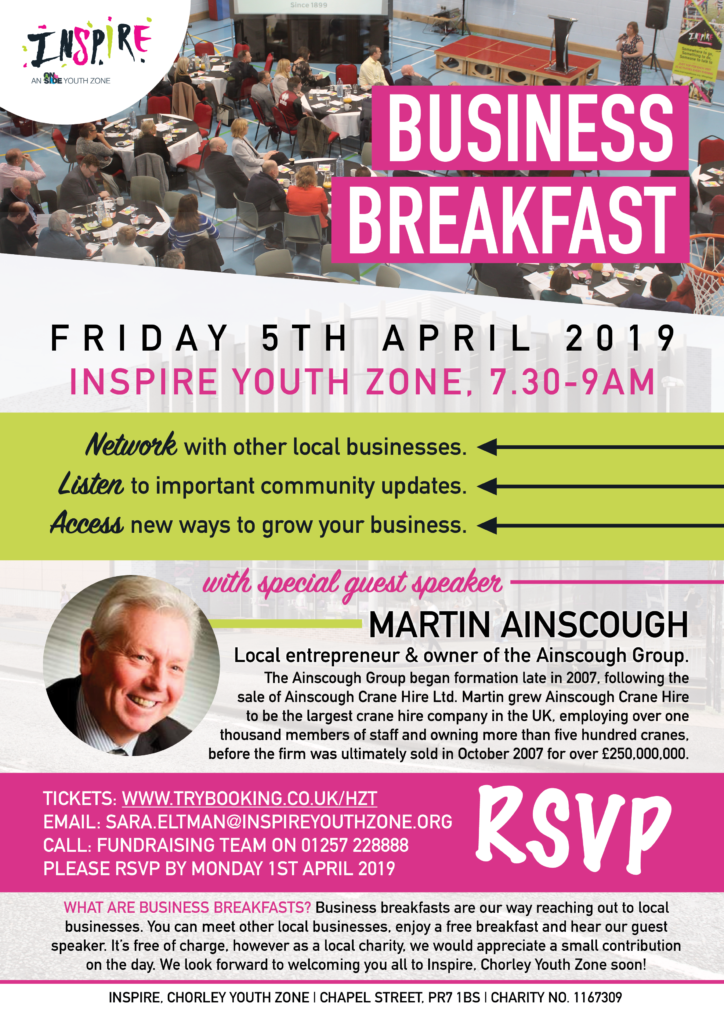 [/column]