Help Inspire Youth Zone bring the magic of Christmas to thousands of local young people by supporting Operation Festive Cheer – our brand new Christmas appeal!
We're urgently seeking businesses and individuals who can join us in sprinkling some magic to children and young people for whom 2020 has been especially difficult. From buying a small gift to joining our #HolidayHunger appeal we have lots of ways you can make a difference to a young person this Christmas…
🎅 Support our Christmas Teen Appeal and donate a gift for a young person this Christmas Eve!
If you prefer, you can make a donation to Inspire here and we will select a gift on your behalf or check out our gift selection on our Amazon Wish List which will be delivered directly to Inspire – remember to include your contact details so we can say thank you!
Could your workplace collect gifts on our behalf? Contact Fundraising@inspireyouthzone.org now for more information.
🎄 Join our #HolidayHunger campaign
Help us to ensure no young person or their families go hungry over the festive period by supporting our Holiday Hunger campaign. Your donations could help fund a family meal for six or provide a healthy meal hamper that lasts throughout the Christmas holidays.
🎁 Give a Gift that lasts throughout the year!
Help Inspire to always be there for thousands of local young people by joining our new monthly giving programme. A personal donation of just £5 a month could help us provide a young person a full years membership at Inspire or a £100 could help us provide free and subsidised hot, healthy meals throughout the year to stop our most vulnerable children from going hungry.
📣Help us spread the word!
The best way to spread Christmas cheer, is singing loudly for all to hear – or by helping us to spread the word!  💚 For more information please contact Fundraising@inspireyouthzone.org
With Jolliest Regards
Karen – Chief Elf x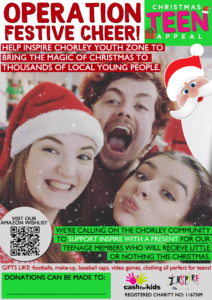 Check out our gift selection on our Amazon Wish List!