HAVE YOUR SAY…
A talented group of young people, named the Young People's Development Group, helped come up with the concept and name of Inspire for Chorley Youth Zone as well as helping shape the exterior designs of the building.
Building work on site will commence later this year and it will be a busy year for the Youth Zone with lots happening. There are still opportunities to get involved in the Youth Zone before it opens.
Young people will also get the chance to promote Inspire, get involved in community fundraising, visit and meet other members from existing Youth Zones. Click here to find out more about the existing Youth Zone Network.
We are always open for groups of young people to visit the Network of existing Youth Zones, so if this sounds like something you would be interested in, just get in touch by emailing: David.Barton@OnSideYouthZones.org.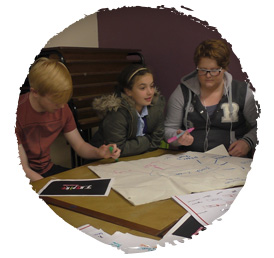 "I cannot wait for the Youth Zone to open, especially to see my own and other young people's creativity come to life. This is a great chance for all our ideas to be heard." Anne Marie Gaskell

"People have been telling us that our young people need somewhere to go where they can enjoy their spare time and to help them fulfil their potential, this Youth Zone would deliver something exciting for all young people across Chorley. By working together we could create a top class facility, giving our young people somewhere they could be proud of." Chorley Council Leader, Alistair Bradley

"The young people of Chorley deserve an OnSide Youth Zone which will give them a safe and inspiring place to spend their leisure time, and we are on the road to making that dream a reality." Chairman of Chorley Youth Zone, Andrew Turner