[column width="3/5″ title="" title_type="single" animation="none" implicit="true"]
A team of 3 amateur cyclists from Inspire, Chorley Youth Zone are cycling 22 miles from Chorley to Wigan Youth Zone and back to raise vital funds for local young people.
Youth Work Manager – Ryan Powell, Sports Coordinator – Danny Coyle, and Reception Lead – Morgan Fishwick will depart from Inspire Youth Zone at approximately 9am on Tuesday 22nd October and end the challenge 3 hours later when they return their Youth Zone in Chorley.
The route forms part of the 'Tour De Youth Zones' challenge organised by national charity OnSide Youth Zones which has a network of 13 state-of-the-art centres across the country.
Riders choosing to take part in the week-long challenge will embark on a 500-mile cycle from Carlisle to Croydon.
Ryan Powell at Inspire Youth Zone said: "When I heard about this challenge, I just knew I had to get involved!
"I'm no professional cyclist but if I can help to raise money for our Youth Zone – a vital lifeline for some young people in Chorley – I'll do whatever I can."
The riders taking part will be completing the whole route or joining for stages along the way to include as many people as possible. The below miles are approximate.
• Carlisle to Blackburn – 100 miles (Carlisle and Blackburn Youth Zones)
• Blackburn to Altrincham – 76 miles (Chorley (Inspire), Wigan, Bolton (Lads and Girls Club), Oldham (Mahdlo), Manchester Youth Zones)
• Altrincham to Telford – 89 miles (Warrington and Wirral (The Hive) Youth Zones)
• Telford to Buckingham – 98 miles (Wolverhampton (The Way) Youth Zone)
• Buckingham to Croydon – 93 miles (Barking and Dagenham (Future), Barnet (Unitas) and Croydon (Legacy) Youth Zones)
All funds raised by the 3 amateur cyclists form Chorley will go towards Inspire, Chorley Youth Zone which offers a range of services for local young people including counselling, mentoring, employability and enterprise programmes, days out and holiday clubs as well as over twenty activities seven days a week.
As riders arrive at Inspire from Blackburn Youth Zone on the morning of the 22nd, young people attending the Youth Zone's holiday club will welcome them with food and drink to boost their energy and words of encouragement to help them through their wider journey.
To donate funds to Inspire, Chorley Youth Zone please click here.
[/column]
[column width="2/5″ last="true" title="" title_type="single" animation="none" implicit="true"]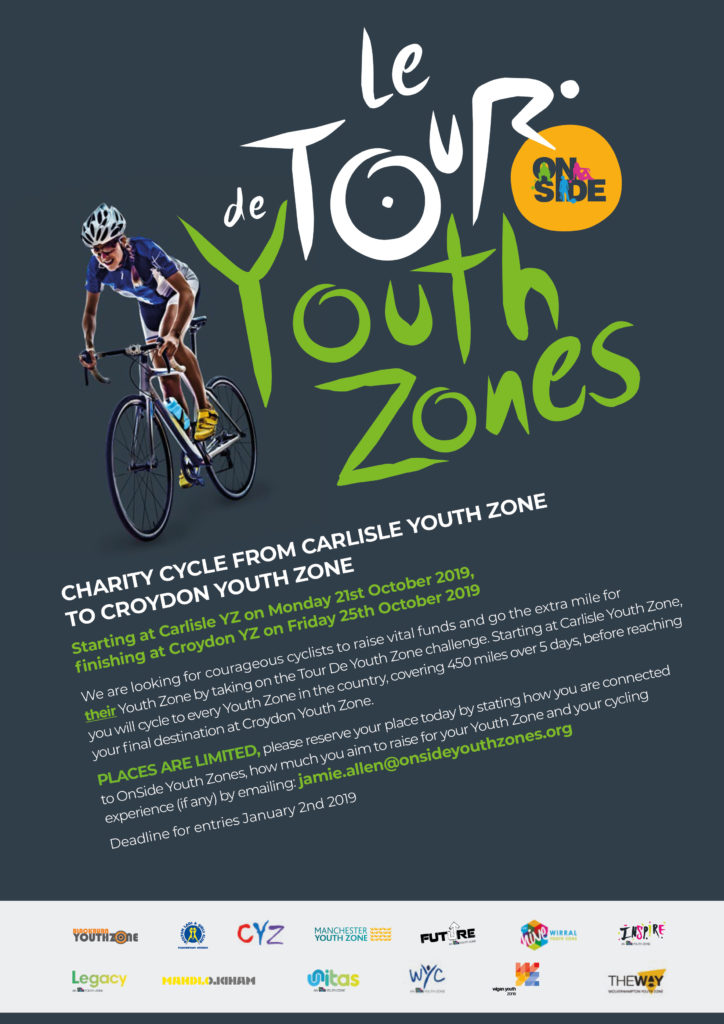 [/column]