ROWLAND HOMES, BUILDING THE FUTURE.
On 7th July, we were delighted to officially welcome Rowland Homes to Inspire's family of Patrons. Committing to a total donation of £75,000 over the next 3 years, this support is vital to ensuring we can continue to transform the lives of young people. 
Stephen Grant, Sales & Marketing Director for Rowland Homes said
"We care about the communities that we build in and donate to many worthwhile causes. When Inspire got in touch we knew this would be a perfect partnership as they do amazing work and help so many young people in the local community. We're a local company and we are honoured to contribute £25,000 every year for the next three years to such a worthy cause."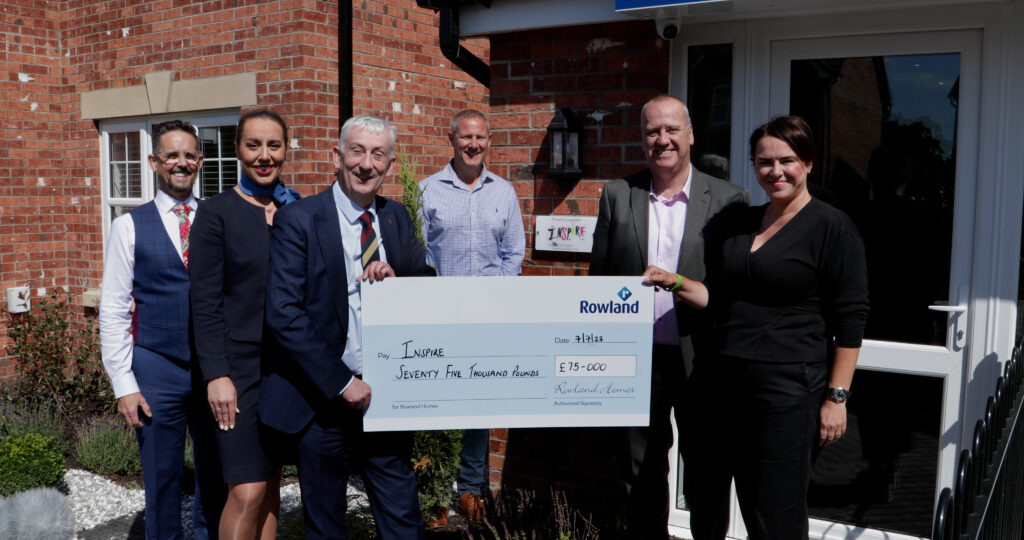 Also attending the cheque presentation was MP for Chorley and Speaker of the House of Commons, Sir Lindsay Hoyle. Having been an avid supporter of Inspire prior to us even opening our doors, he's always so grateful to local organisations and individuals who choose to support the boroughs young people. He added:
"It's been my vision to help Inspire grow from strength to strength in Chorley. They are an incredible charity that really do help change young people's lives and I'm so proud of what they have achieved and so pleased with the partnership and generosity of Rowland."
The cheque presentation took place at Rowland's new Jubilee Gardens site in Euxton. After being treated to an incredible tour of the new showhome's, CEO of Inspire, Janine Blythe, said: "We're so grateful to have received this amazing donation from Rowland because without partners like them we wouldn't be able to provide the range of vital support we do and support the children who need support the most."
You can see the full video of the event below.