[column parallax_bg="disabled" parallax_bg_inertia="-0.2″ extended="" extended_padding="1″ background_color="" background_image="" background_repeat="" background_position="" background_size="auto" background_attachment="" background_video="" vertical_padding_top="0″ vertical_padding_bottom="0″ more_link="" more_text="" left_border="transparent" class="" id="" title="" title_type="single" animation="none" width="1/1″ last="true"]
[column_1 width="1/2″ title="" title_type="single" animation="none" implicit="true"]
Local residents of Chorley have the opportunity to view the site proposals for Chorley's new Youth Zone named 'Inspire' at a Public Exhibition later this week.
The exhibition will be held on Thursday 17th December at The Arts Partnership (Chorley Community Centre), Railway Street, Chorley, PR7 2TZ between 3pm and 7pm where as well as viewing the plans, local people will be able to speak with members of the project team and provide feedback.
Chorley Youth Zone has a proposed site on Railway Street, where The Arts Partnership and Leigh Arms currently stands and will be a purpose-built facility for the town's young people aged 8 – 19, and up to 25 for those with disabilities.
Rob Carter, Deputy Chief Executive at OnSide said: "At OnSide we believe it's crucial the public understand what a Youth Zone will mean for their area. We would like to encourage the local community to come along and find out more about our proposals and meet some members of the project team on Thursday 17th December. We are excited about working in partnership to bring a Youth Zone to Chorley."
[/column_1]
[column_1 width="1/2″ last="true" title="" title_type="single" animation="none" implicit="true"]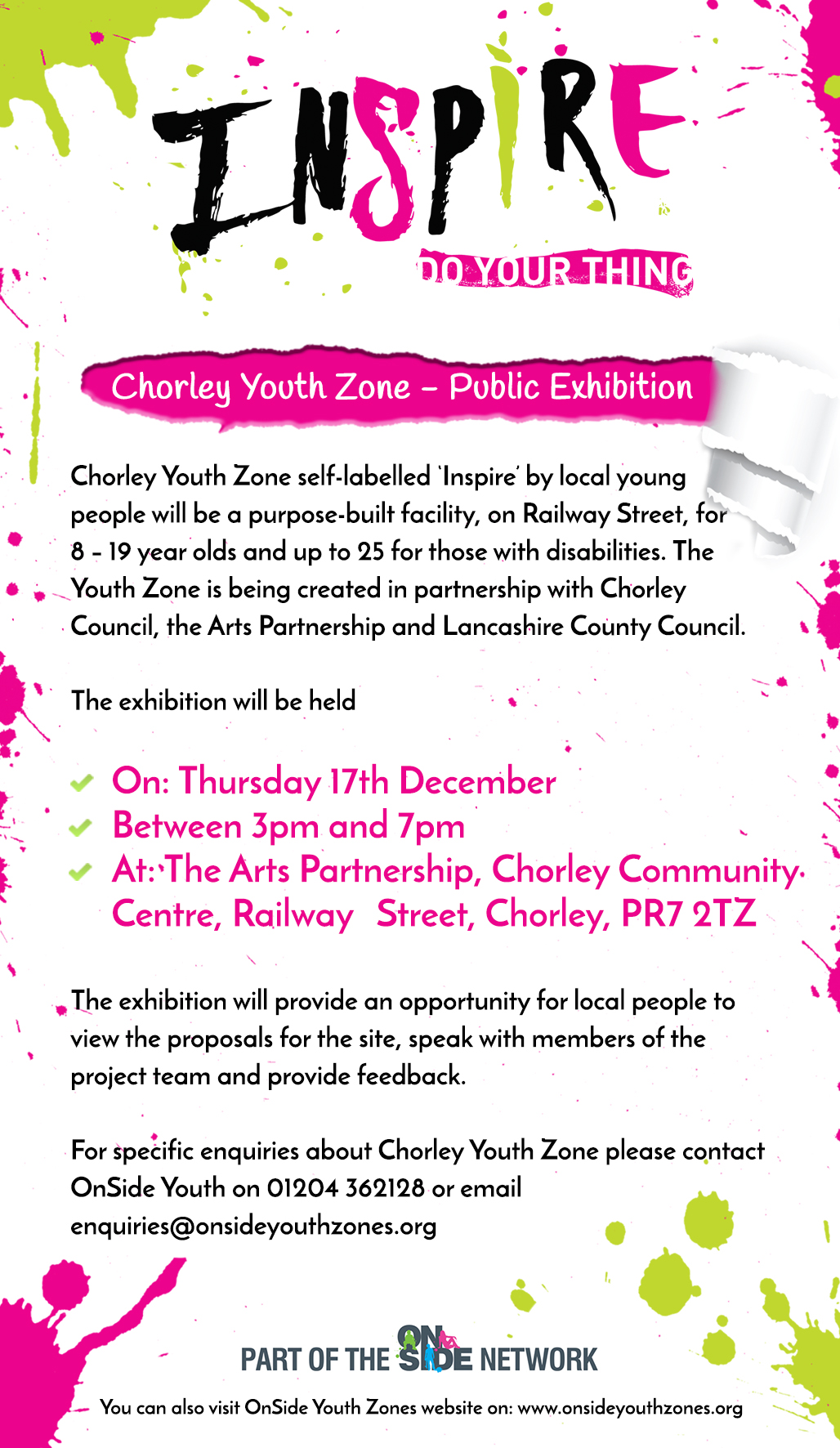 [/column_1]
[/column]