Inspire Youth Zone has been decorated with an incredible new mural on their underground football pitch. 
The artist to thank for this beautiful conceptual piece is local muralist Gavin Renshaw. With support from The Prudence Trust, Inspire members and Gavin were able to have open-conversations about mental health and collaboratively work on a design that connected with them. 
Over a 12 week period, young artists at Inspire Youth Zone took part in Mural Mondays, a specific art Project to draw, create and express their visions for the huge wall space. The final design depicts a team of mixed-gender football players standing in solidarity, unity and togetherness.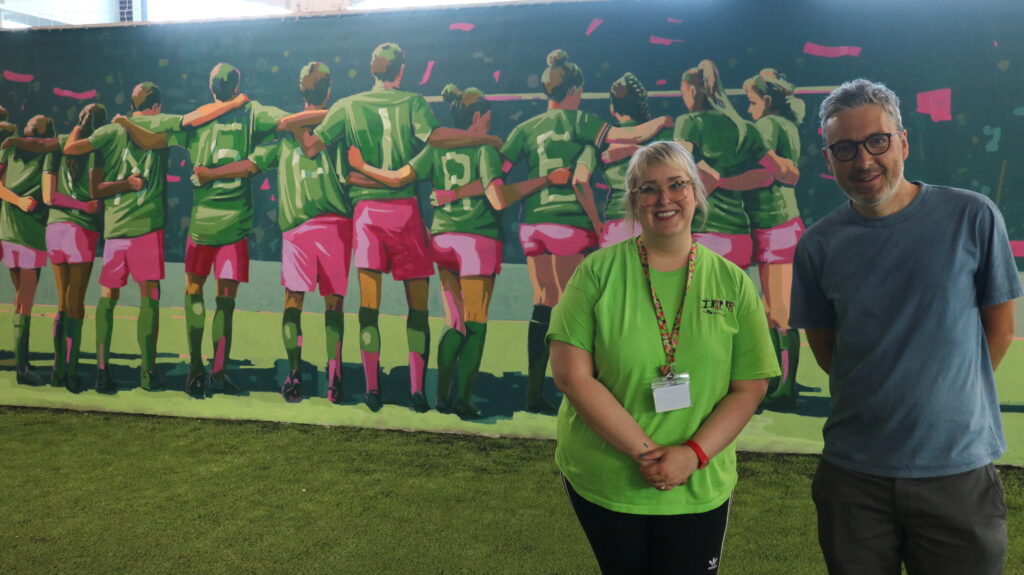 Arts Coordinator Lauren said "It took us 6 months to research the right artist for the job.  We wanted something that would stand the test of time, and change with the ages.  The art the Gavin creates is colorful, impressionistic, and able to grab the attention of the viewer without being too "in your face" or "typical"
The Prudence Trust is a grant-making charity, established in 2020, investing in the advancement of young people's mental health services and research in the UK. With their support, Inspire are able to continue discussing the importance of mental health in a variety of different ways. Their belief that both one-to-one help and creativity promote positive mental health and play a significant part in prevention and early intervention.
Renshaw has produced work for Upside Gallery in Bournemouth, Withington Walls, BBC, Uprising Mural Festival, Blackburn Open Walls, Ribble Steam Railway Museum, Harris Museum and Art Gallery, Courtaulds Gallery, and most recently, Shetland Arts before completing the Mile 0/21 mural for Paint Preston.
Find Gavin's work at: www.gavinrenshaw.com
Instagram: @mrteaone