[column width="2/5″ title="" title_type="single" animation="none" implicit="true"]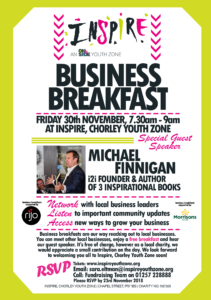 [/column]
[column width="3/5″ last="true" title="" title_type="single" animation="none" implicit="true"]
Inspire Youth Zone is hosting it's very first 'Business Breakfast' in November with free hot drinks, hot food and a special guest speaker.
The Youth Zone that opened in May 2018 has been working closely with local communities and businesses to raise awareness of the charity as well as funds to aid with the delivery of over 20 activities per night for young people.
On Friday 30th November, from 7.30am – 9am, Inspire is opening its doors to local businesses to come and explore the Youth Zone, enjoy a free cooked breakfast and hear from Michael Finnigan who is the special guest speaker on the day.
Finnigan, founder of i2i and author of 3 inspirational books, has worked in the past with several businesses including Everton FC & TEDx Talk, and has an in-depth knowledge and wealth of experience in performance psychology.
The Business Breakfast has been supported by other local businesses including Rijo and Morrisons Chorley, who have helped to provide refreshments for the attendees.
Sara Eltman, fundraising manager at Inspire Youth Zone is excited to host the event and hear their highly anticipated guest speaker.
"We are delighted to be hosting our very first Business Breakfast at Inspire, Chorley Youth Zone, giving local businesses the opportunity to find out more about the Inspire project, hear our fantastic guest speaker Michael Finnigan, whilst networking with our thriving local business community.
We are looking forward to welcoming everyone to the Youth Zone for what promises to be the first of many great events!"
Tickets to the event can be purchased by visiting this link and they are free of charge, however Inspire Youth Zone would greatly appreciate any contribution made to the charity on the day.
[/column]
[column width="5/6″ last="true" title="undefined" title_type="undefined" animation="zoom-in" implicit="true"]
[slogan button_text="Book Now" link="" button_icon="cursor" button_icon_color="" button_icon_placement="left"]
There's still space left to confirm your place!
[/slogan]
[/column]