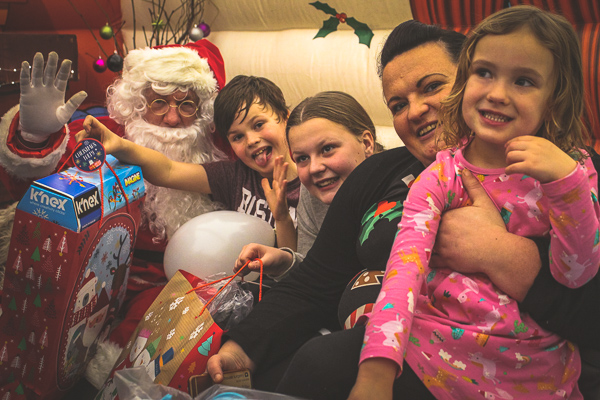 Inspire Youth Zone hosted loads of exciting events in the lead up to their very first Christmas in 2018, from tenacious trips to pulsating parties, all thriving off the festive spirit that truly culminated at the Christmas Family Meal.
On Sunday 23rd December, a select number of Inspire members attended a Christmas meal at the Youth Zone with fun, games, inflatables, a 2-course meal and a visit from Santa himself populating the special day.
Inspire's volunteers and patrons gave up their own time to help make the event possible, with responsibilities shared throughout the day including pot washing, food serving and table clearing all in favour of ensuring the day was as close to perfect as it could be for some of Chorley's young people that earned an invite to the event.
The day kicked off with face painting, arts & crafts and fun on the inflatables for young people to enjoy; and as some adults and families in attendance also joined in on the fun, others took the opportunity to socialise and enjoy a well-earned complimentary hot or cold drink as a jam-packed 2018 drew to a close.
After hours of preparation and cooking in the kitchen, the Christmas meal was finally ready to be served, as young people and adults hurriedly took their seats at their allocated tables.
Guests then eagerly awaited their turn to fill their plates with the delicious food that was kindly donated by the Church of the Latter-Day Saints and lovingly served by the volunteers and patrons in attendance – including fresh vegetables, a nut roast, turkey meat, pig in blankets, a selection of sweet dishes and more.
Check out the photos from the event above!
After filling their bellies, a handful of Inspire's creative young people performed dances and live music for the guests as they let the food settle in preparation for Santa's big arrival.
Olivia Stanley, Kerri-Ann Braithwaite & Stephen Groves provided stunning, acoustic renditions of popular songs preceded by Junior Members Daisy Wilkinson, Carly McCrae, Pheobe Bishop and Maddie Yates who performed their own choreographed Christmas dances.
To cap off a wonderful selection of entertainment, Inspire regular, Thomas Doherty, donned a lycra Santa suit and, accompanied by Erin Hari & Isobella Bowker, performed a routine set to Mariah Carey's 'All I Want For Christmas Is You', coming to a head as Tom began handing out treats and sweets to each of the guests in attendance.
Finally the food had settled and the tables were clear, as Santa began his descent into PR7 and parked his sleigh outside the doors of Inspire Youth Zone. Using his secret key, he opened the back door and waltzed into the sports hall, causing guests and young people to erupt in excitement!
After several hi-fives and a game of slaps, Santa settled in his inflatable grotto, shortly followed by his team of elves, to begin meeting young people and handing out gifts he'd dropped off at Inspire a few days earlier, mixed in with the incredible gift donations from a number of local initiatives, businesses, Chorley residents and several more community members.
In groups of twos, threes and fours, young people passed through the grotto, each leaving with a larger smile than before entering.
Before Santa's work was done, the much-anticipated raffle began outside his grotto, as guests reached for their tickets and crossed their fingers in the hope of winning one of the amazing prizes on offer, with the top prize being a week's stay at Tac's Rest in Wales, donated by Neil Smith MBE, combined with £100 spending money.
By 5pm, the festivities had drawn to a close as families and young people left the Youth Zone a little heavier than they had entered, as all involved were able to reflect on the success of the event.
"These kinds of days remind me that all of the efforts and stresses, trials and tribulations, highs and lows of Youth Work are all worth every second." Genna Banks, Senior Club Coordinator and one of the Youth Workers who helped organise the event, was physically drained but overwhelmed by the outcome. "I'm proud of every single one of the team and so humbled to have such awe-inspiring staff, patrons and volunteers involved with Inspire."
Inspire would like to take this time to thank every single person who made this special event possible. Various businesses and residents of the Chorley community made incredible strides, donations and sacrifices to enable the event with each gesture as important as the next.
Special thanks to Asda Clayton Green who donated £1000 toward the event, Living Waters Church who donated food hampers and selection boxes and Parklands High School who also kindly donated hampers.
Each of our patrons who donated their time to volunteer at the event, as well as our incredible, amazing and inspiring volunteers who also gave up their Sunday and offered their continued support so close to Christmas.
Rock FM's Cash for Kids, Chorley Group, St. James' Primary School and members of the local Chorley community who made staggering contributions to Inspire's Gift Appeal.
And finally, to Neil Smith MBE for his donation of a week's holiday at Tac's Rest, and the Church of the Latter-Day Saints for their selfless donation of all food on the day to support the Christmas meal as well as a generous food hamper donation.
Take a look at our video and photos captured on the day, and thank you once again to everyone that made this possible.