Make a difference….
As a brand new charity in Chorley, Inspire Youth Zone offers a chance to make a real difference in the lives of thousands of young people. If you have the energy, drive and enthusiasm to be part of this exciting work coupled with the skills that our roles require, please apply TODAY.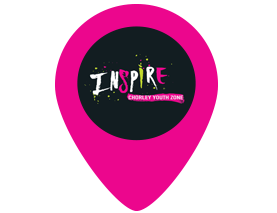 How to reach Inspire Youth Zone
By train: The Youth Zone on Queen Street is approximately one minutes' walk from Chorley railway station. Head south on Railway St towards Albert St. The Youth Zone will be on your right. VIEW DIRECTIONS By bus: The Youth Zone is approximately three minutes' walk from Chorley bus station. On exiting the bus station, head south on Clifford St towards Chapel St. Turn left onto Chapel St, then right onto Railway St. The Youth Zone will be on your right. VIEW DIRECTIONS By car: The Youth Zone's postcode is PR7 1BS
We are currently hiring!
Job Title:

Social Media & Marketing Apprentice

Salary: 
Up to £12,000 PA
Hours:
Full time
 The Role: 
Do you have a passion for social media and want to show your creativeness online? Do you want to work with young people as well as cutting edge technology in a brand new Youth Zone where you can put your own mark on the work you do? We may have the perfect role for you!

We want you to help us raise the profile of Inspire Youth Zone through the exciting means of Social Media and other new technologies. You will work closely with the OnSide Communications team to help deliver a Youth Zone communications plan and you will be responsible for supporting in all communications and marketing activities within the Youth Zone. In particular, you will:

Use your creativity to raise awareness of the Youth Zone amongst the whole community including young people, partners, funders and potential patrons through social media and other digital and 'offline' platforms.
Engage with young people, the Inspire team and different stakeholders to really emphasise Inspire Youth Zone.
Portray a positive image of young people, their achievements, development and voice.
Produce creative communications that really captivate the target audience and tells the Inspire story.

More about the role:
Click here to see the full job role.
Application process:
Click here to apply via Arch Apprentices.
Closing Date: 
Friday 13th April 2018
 Interview Date: 
Monday 23rd April 2018
Scroll down to see our available volunteering opportunities. If you would like to express an interest in volunteering at Inspire, please complete the contact form below and a member of our team will be in touch with you shortly.
Now recruiting volunteers!
| | |
| --- | --- |
| Job Title: | Volunteer Junior Youth Worker – Rec Area/Holiday club |
| Reporting to: | Junior Coordinator |
| The Role: | We are looking for volunteers to make a difference to the lives of young people by assisting in providing play activities for children and young people 8-12 years old during school holidays.  Encourage young people to get involved in a range of activities and be willing to actively take part. Click here to download the full role profile. |
| | |
| --- | --- |
| Hours: | Minimum 3 hours per week |
| How to apply: | To apply, please register your interest using the contact form above. |
| | |
| --- | --- |
| Job Title: | Volunteer Football Coach |
| Reporting to: | Sports Coordinator |
| The Role: | We are looking for volunteers to make a difference to the lives of children and young people through coaching football. Sport is an enormous part of what we do at Inspire and as a volunteer here you will feel pride in what you and the young people you work with are achieving. Click here to download the full role profile. |
| | |
| --- | --- |
| Hours: | Minimum 3 hours per week |
| How to apply: | To apply, please register your interest using the contact form above. |
| | |
| --- | --- |
| Job Title: | Volunteer Arts/crafts Youth Worker |
| Reporting to: | Junior lead |
| The Role: | We are looking for volunteers to make a difference to the lives of children and young people through Art. This role is about encouraging and supporting young people to get involved in a range of arts activities; including fashion design, painting, sculpture etc. Click here to download the full role profile. |
| | |
| --- | --- |
| Hours: | Minimum 3 hours per week |
| How to apply: | To apply, please register your interest using the contact form above. |
| | |
| --- | --- |
| Job Title: | Volunteer  Youth Worker – Climbing |
| Reporting to: | Sports coordinator |
| The Role: | If you're new to climbing, get involved in our open sessions with challenges and games on our climbing wall. Want to get better at climbing? We run NICA's (National Indoor Climbing Award Scheme) sessions, giving those who want to learn more about it, the chance to develop their climbing skills, a great entry into the sport of climbing and a brilliant addition to any CV! The wall is open to all ages, genders and skill levels and manned by qualified staff.  You will have the opportunity to support young people as they face new challenges. Click here to download the full role profile. |
| | |
| --- | --- |
| Hours: | Minimum 3 hours per week |
| How to apply: | To apply, please register your interest using the contact form above. |
| | |
| --- | --- |
| Job Title: | Volunteer Youth Worker – Enterprise |
| Reporting to: | Senior Coordinator |
| The Role: | We are looking for entrepreneurial volunteers to make a difference to the lives of young people, supporting them to make better choices. This role is about working with a range of partners and local business people to provide young people with career pathways. Click here to download the full role profile. |
| | |
| --- | --- |
| Hours: | Minimum 3 hours per week |
| How to apply: | To apply, please register your interest using the contact form above. |
| | |
| --- | --- |
| Job Title: |  Volunteer Youth Worker – Kitchen lead |
| Reporting to: | Junior Coordinator |
| The Role: | We are looking for volunteers to make a difference to the lives of young people, supporting them to make healthier choices. This role is about encouraging and supporting young people to get involved in a range of skills including; cookery, budgets, healthy options, health and safety. Click here to download the full role profile. |
| | |
| --- | --- |
| Hours: | Minimum 3 hours per week |
| How to apply: | To apply, please register your interest using the contact form above. |
| | |
| --- | --- |
| Job Title: | Volunteer Youth Worker – Music and Media |
| Reporting to: | Senior Coordinator |
| The Role: | We are looking for volunteers to make a difference to the lives of young people using music/media. This role is about encouraging and supporting young people to get involved in a range of activities; including; Music tuition, setting up new bands, video and film, karaoke etc. Click here to download the full role profile. |
| | |
| --- | --- |
| Hours: | Minimum 3 hours per week |
| How to apply: | To apply, please register your interest using the contact form above. |
| | |
| --- | --- |
| Job Title: | Volunteer Youth Worker – Performing Arts |
| Reporting to: | – |
| The Role: | We are looking for entrepreneurial volunteers to make a difference to the lives of young people, supporting them to make better choices. This role is about working with young people to develop their creativity through dance and drama. This includes creating a number of performances for our parents, patrons and visitors, creative writing, stage direction, choreography, technical and lighting and partnering the music and media and art departments. Click here to download the full role profile. |
| | |
| --- | --- |
| Hours: | Minimum 3 hours per week |
| How to apply: | To apply, please register your interest using the contact form above. |
| | |
| --- | --- |
| Job Title: | Volunteer Sports Youth Worker |
| Reporting to: | Sports Coordinator |
| The Role: | We are looking for volunteers to make a difference to the lives of children and young people through sports. This role is about encouraging and supporting young people to get involved in football, badminton, dance, table tennis, basketball, small team games, climbing, a fully equipped gym and boxing. Click here to download the full role profile. |
| | |
| --- | --- |
| Hours: | Minimum 3 hours per week |
| How to apply: | To apply, please register your interest using the contact form above. |
| | |
| --- | --- |
| Job Title: | Volunteer Youth Worker – Girls Room |
| Reporting to: | Senior coordinator |
| The Role: | We are looking for volunteers to make a difference to the lives of young females. This role is about encouraging and supporting young people to get involved in a range of activities; including; hair, nails and beauty and targeted educational work and development. Click here to download the full role profile. |
| | |
| --- | --- |
| Hours: | Minimum 3 hours per week |
| How to apply: | To apply, please register your interest using the contact form above. |
| | |
| --- | --- |
| Job Title: | Volunteer Gym/Fitness Volunteer Youth Worker       |
| Reporting to: | Senior coordinator |
| The Role: | Our Senior Gym Session is open for all ages from 11 years of age up to 19 (25 with those with additional needs). In our Junior Sessions we welcome anyone of our members to take part in the focused exercises we put on from 8 years of age to 11. In addition to classes and sessions the gym team offer 1:1 programmes supporting our members with their fitness, whether designing bespoke programmes or providing advice on nutrition Click here to download the full role profile. |
| | |
| --- | --- |
| Hours: | Minimum 3 hours per week |
| How to apply: | To apply, please register your interest using the contact form above. |
| | |
| --- | --- |
| Job Title: | Volunteer Youth Worker – Boxing |
| Reporting to: | Sports coordinator |
| The Role: | Our dedicated boxing and martial arts gym hosts sessions including: Judo, Taekwondo and of course boxing.  This helps young people make new friends, instils discipline and gain confidence. Click here to download the full role profile. |
| | |
| --- | --- |
| Hours: | Minimum 3 hours per week |
| How to apply: | To apply, please register your interest using the contact form above. |
"I cannot wait for the Youth Zone to open, especially to see my own and other young people's creativity come to life. This is a great chance for all our ideas to be heard." Anne Marie Gaskell

"People have been telling us that our young people need somewhere to go where they can enjoy their spare time and to help them fulfil their potential, this Youth Zone would deliver something exciting for all young people across Chorley. By working together we could create a top class facility, giving our young people somewhere they could be proud of." Chorley Council Leader, Alistair Bradley

"The young people of Chorley deserve an OnSide Youth Zone which will give them a safe and inspiring place to spend their leisure time, and we are on the road to making that dream a reality." Chairman of Chorley Youth Zone, Andrew Turner