BECOME A PATRON
"The future for Chorley's young people just got a whole lot better!"- Andrew Turner
Patrons are key to the success of a Youth Zone. Becoming a Patron of Chorley's Youth Zone is your chance to be part of the Inspire story.
Our Patrons are a group of individuals and companies united by a determination to give young people in Chorley somewhere to go, something to do and someone to talk to. As a Patron you will form part of an exclusive group who share the vision to transform the lives of thousands of young people in Chorley.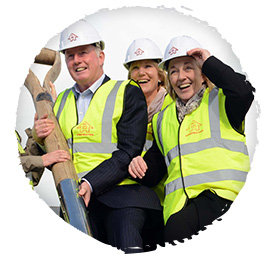 PROUD TO SUPPORT INSPIRE
Create a bespoke, and mutually beneficial partnership.
Inspire and motivate your team, offering them professional and personal development opportunities.
Positively change the lives of 1000's of young people in Chorley.
See at first hand the difference your involvement with the Youth Zone is making to future generations.
Increase brand awareness through positive local PR.
Allow your business to fulfil its Corporate Social Responsibilities.
"I cannot wait for the Youth Zone to open, especially to see my own and other young people's creativity come to life. This is a great chance for all our ideas to be heard." Anne Marie Gaskell

"People have been telling us that our young people need somewhere to go where they can enjoy their spare time and to help them fulfil their potential, this Youth Zone would deliver something exciting for all young people across Chorley. By working together we could create a top class facility, giving our young people somewhere they could be proud of." Chorley Council Leader, Alistair Bradley

"The young people of Chorley deserve an OnSide Youth Zone which will give them a safe and inspiring place to spend their leisure time, and we are on the road to making that dream a reality." Chairman of Chorley Youth Zone, Andrew Turner