Great Grandad Tony's Tremendous Trek
89-year-old great grandad, Tony Newton, has just completed an epic 365-mile journey on his bike from his hometown in Chorley to Inverness in Scotland, raising funds for Inspire!
As an independent children's charity that provides young people aged 8 to 19 (up to 25 with additional needs) with a purpose-built space where they can get involved in activities they've never even dreamt of, make new friends, and be introduced to a world of opportunity – we rely on the support of people like Tony (and the Wotherspoon Family!) to allow us to do what we do. 
Taking on the tremendous trek, Tony gave himself 7 days to complete the challenge and has so far raised over £2000. As a life-long cyclist, he used his phone as a satnav, kept tabs with his family over email, and relied on B&B's along the way for rest stops.
Tony said: "I know that I am very fortunate to be functioning so well physically at my age but would say that one's body is an amazing piece of equipment which can be improved at any age."
Tony's granddaughter, Hannah Wotherspoon added: "He doesn't see age as a barrier, he just always focuses on the positives and keeps fit cycling over 50 miles a day for fun. My grandad is great grandad to my 3 children Moses (10) Beau (9) and Nell (5). He is such an inspiration to them!"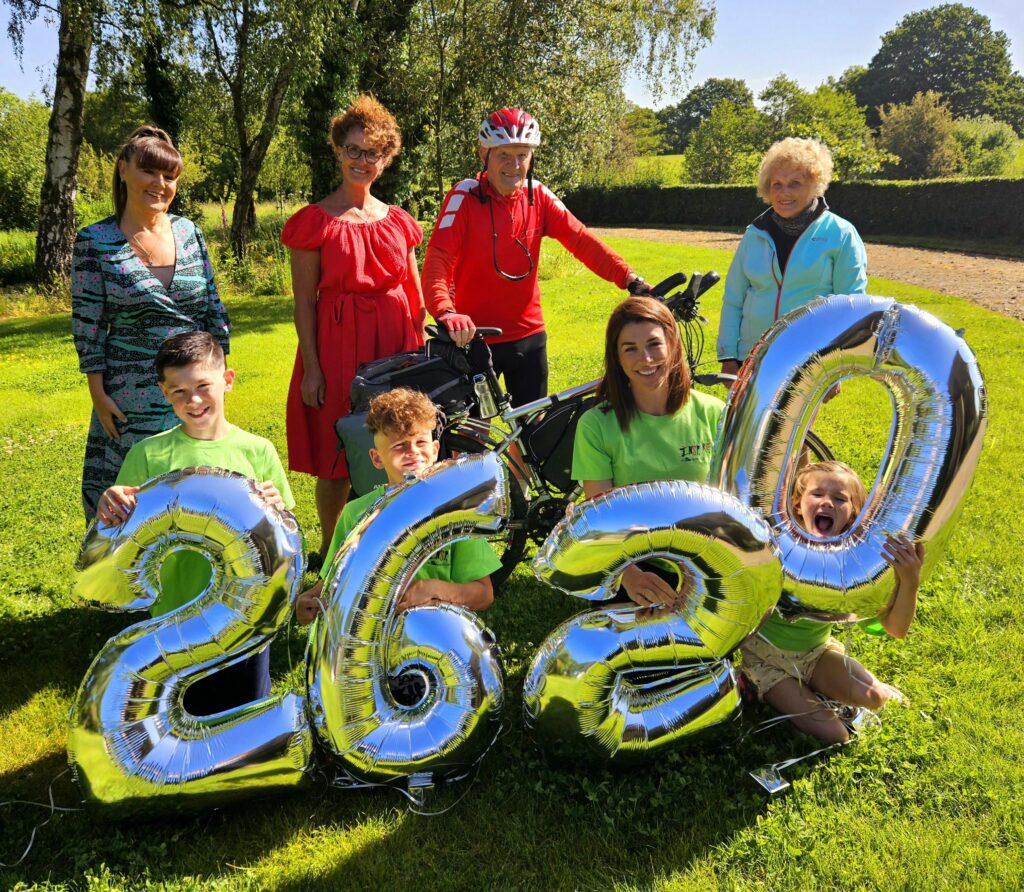 As a family, they are all behind Inspire and the work they do, with Hannah and the children also taking part in Chorley's recent 10k event meaning they have collectively raised £2620 for the charity over the past month.
Tony said the hardest part was in Cumbria: "The Shap climb seems to go on forever, it starts just after Kendal and goes on for about seven miles before the Summit. Although the climbing is gradual for most of the way it contained a number of the steepest slopes in the whole trek and was quite tough.
"For me the highlight of the trip was the last stretch on a beautiful sunny day on A roads through traffic-free forests all coming into full leaf.  The fact that it was the run up to the finish probably enhanced the feeling too."
Janine Blythe, Chief Executive of Inspire, said: "We can't thank Tony enough for taking on this challenge on behalf of the children and young people of Chorley. Regularly racking up over 1,000 visits per week from local young people we provide them with a place where they cannot just be themselves, but where they can become their best selves.
All of this is only possible thanks to the support we receive from the community, who help us to raise the £1.3m we need each year to keep our doors open and we are honoured to have fundraisers like Tony who will do whatever it takes to ensure we can offer a safe, nurturing, and inspiring environment for thousands of local children."
If you'd like to donate to support Tony's Tremendous Trek and donate to Inspire Youth Zone, you can do so here: https://www.justgiving.com/page/hannah-wotherspoon-1684059841386