[column width="1/1″ last="true" title="" title_type="single" animation="none" implicit="true"]
❗Important update!
We are not fully open… yet!
Your Inspire Youth Zone experience has been very different over recent months and we can finally start opening the doors. However, this is a slow process as protecting the health and safety of our members and staff is our number one priority.
Please note that at this current stage, our sessions are by invitation only for people who will benefit most from our offer. We hope in the future we can increase the capacity of our sessions and be able to invite more of you.
We will still be running much of the Virtual Youth Zone offer and finding ways for our offer to be available to those that aren't able to come to the centre just yet.
In addition to the Virtual Youth Zone, we will be continuing and increasing our Outreach program where young people can engage with our youth workers in the community.
Thank you for your patience and support so far.
We hope to see you all soon.
Keep well, keep safe.
The Inspire Team.
[/column]
[column width="1/1″ last="true" title="" title_type="single" animation="none" implicit="true"]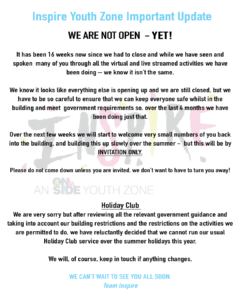 [/column]