[column width="1/1″ last="true" title="" title_type="single" animation="none" implicit="true"]
CHORLEY-based journalist and author David Birtill, who wrote for national and regional newspapers before his appointment as press officer for the Professional Golf Association in England and Wales, made his debut as a budding writer when he reported on a reserve team match at Victory Park as a 14-year-old.
Apart from media commitments, he has rarely missed a game in more than six decades and his enthusiasm for his home town led to his offer to support the Youth Zone which opened last May.
He has since increased his donations by promoting the cause with advertisement hoardings at Victory Park.
Birtill, a member of the Association of Golf Writers, met Sara Eltman, Inspire's fundraising development manager, at the football ground to admire the work of art.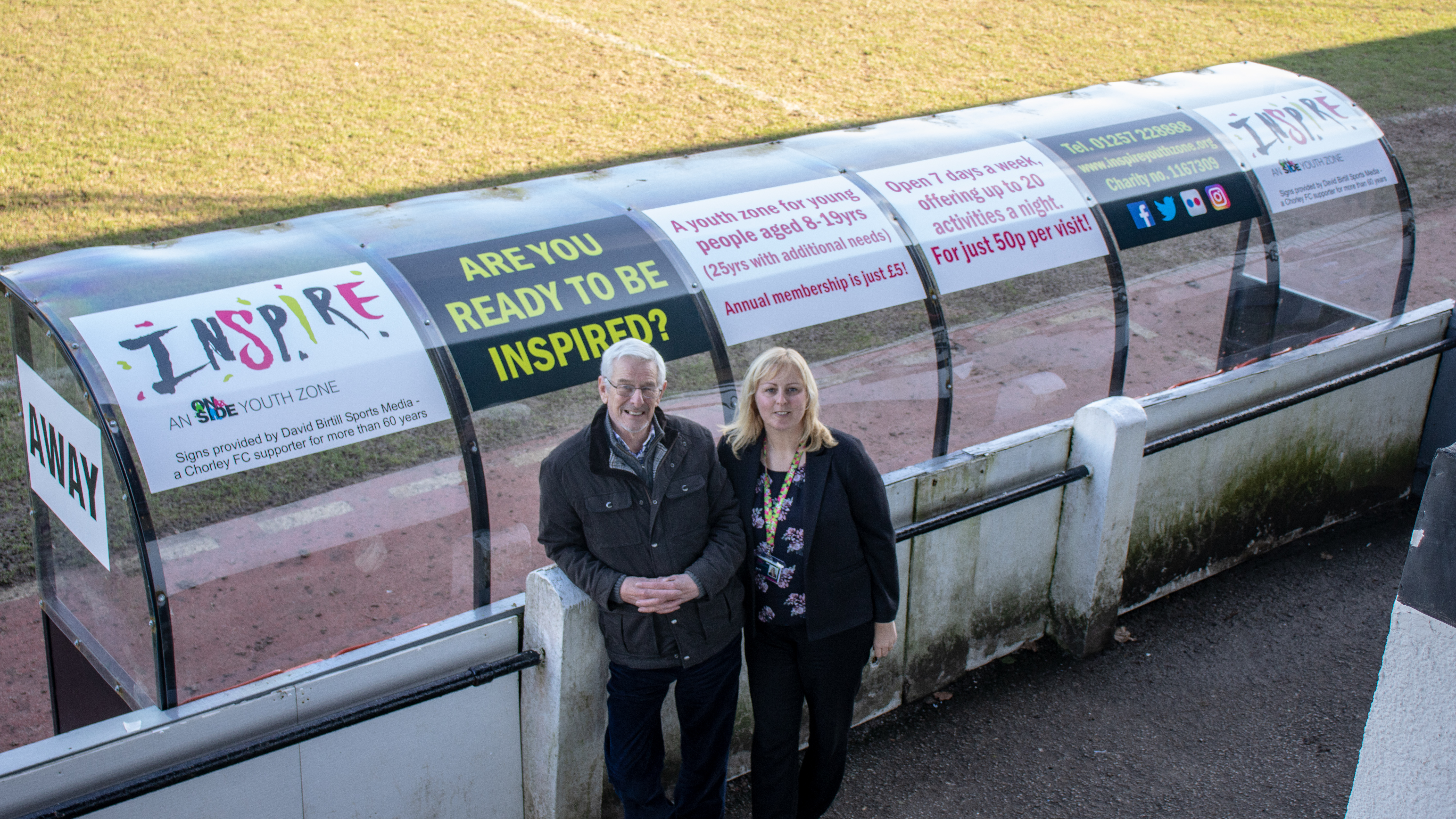 He recalled: "I can remember where I sat the first time I went there. I had a ringside seat because I was in main stand and used a concrete surface to lean on and write my match reports. One of my friends would dash down the steps to a small room to send my copy to the regional press." 
Birtill added: "I'm pleased to unveil these hoardings and maintain my support of Inspire Youth Zone. The centre is a superb building with so much to do and plenty of room for development in young people."
The hoardings are unique at Victory Park because they are the first to be displayed on the home and away dugouts. 
They were printed by local firm, Poppy Signs, and installed by Chorley FC.
Commercial manager, Josh Vosper, is delighted with the continued affiliation with Inspire and David Birtill.
"Having worked with Inspire to deliver football sessions at the Youth Zone in the past, our continued partnership is something we value highly.
"David is a familiar face at the club and is one of our most valued and longest standing supporters. It's fantastic and inspiring to see his passion towards the future youth of Chorley through his generous donations."
Meanwhile, a survey estimated that 28 per cent of children aged two to 15 in England were overweight or obese.
Inspire Youth Zone provides a safe space for young people to take part in active sessions to tackle this statistic.
Working closely with teams such as Chorley FC help to encourage young people to take part in football at the Youth Zone, as well as a range of other sports including indoor climbing, tennis and boxing.
[/column]