Inclusive
If you think that Inspire might be the place for you, then becoming a Member of our Youth Zone is incredibly good value.
Our membership fee is £5, paid once per year and then only 50p every time you come after that! The Zone is for all backgrounds, for all abilities, for all of the community… open 365 days a year. Chorley Youth Zone is a state of the art youth hub in the heart of the town, it is a place where you can make new friends, take part in activities, chill out or play sports, or try something new.
All existing Youth Zones provide and cater for young people with a range of additional needs up to the age of 25 through inclusive ability sessions alongside their mainstream offer. Inspire will be no different. We offer all young people, regardless of ability the opportunity to access a range of activities for example boxing, trampolining, karaoke, arts and crafts, cooking, gaming and much more. Sessions are adapted for young people with additional needs to enable anyone to access them; including young people with a variety of different needs from mild learning difficulties to more complex needs such as visual impairment and physical disabilities.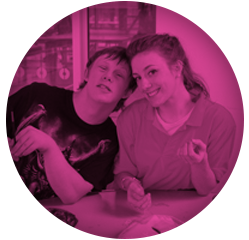 "I cannot wait for the Youth Zone to open, especially to see my own and other young people's creativity come to life. This is a great chance for all our ideas to be heard." Anne Marie Gaskell

"People have been telling us that our young people need somewhere to go where they can enjoy their spare time and to help them fulfil their potential, this Youth Zone would deliver something exciting for all young people across Chorley. By working together we could create a top class facility, giving our young people somewhere they could be proud of." Chorley Council Leader, Alistair Bradley

"The young people of Chorley deserve an OnSide Youth Zone which will give them a safe and inspiring place to spend their leisure time, and we are on the road to making that dream a reality." Chairman of Chorley Youth Zone, Andrew Turner