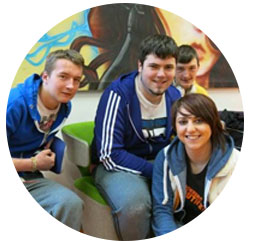 WORKING IN PARTNERSHIP
Inspire will be a resource for all the young people of Chorley to maximise the opportunities available to them. As such, we will always be open to partnership work with local agencies.
We are currently working in partnership with The Arts Partnership as well as Chorley Council and Lancashire County Council and we will continue a number of briefings aimed at local stakeholders and agencies; as well providing updates on the project, they will provide an opportunity to discuss and identify areas for potential partnership work.
However in the meantime, we would love you to find out more about us, by either getting in touch or visiting a Youth Zone with us. We welcome any suggestions to work in partnership with local organisations and the opportunity to discuss these further. Some of examples of how existing Youth Zones within the OnSide Network are working in partnership with their local agencies include:
TRANSPORT FOR YOUNG PEOPLE TO THE YOUTH ZONE
Key themes, ideas and discussion points included:
Outreach team: Could a minibus and outreach team be provided by the Youth Zone to support and engage young people from across Chorley, including supporting and enabling them to attend to the Youth Zone.
Sharing and publicising information on transport: Utilising social media to share information on transport with young people by social media, by making bus timetables available in the Youth Zone, publicising that there will be a drop off point at the Youth Zone.
Use of bicycles: Consider practical ideas for ensuring there is secure cycle storage, offering cycling and safety awareness training to young people, staggered leaving/closing times to avoid mass exit, working with schools to access volunteer drivers and minibuses and traffic calming near the site.
Suggested possible actions going forward:
Develop links with local police and PSCO's to ensure a strong future working relationship
Develop links with local transport providers including Centro to look at solutions
To look into how young people currently access the town
OUTREACH FROM THE YOUTH ZONE
Key themes, ideas and discussion points included:
Expand communications and outreach: Ensure all groups from the city are reached by utilising social media channels, assemblies and sessions in schools and street based work. This should also include website registration for volunteers, working alongside existing networks to develop and support volunteers and if possible engage high profile volunteers to promote the Youth Zone to engage more volunteer across the town.
Link with existing local provision: Ensure provision expands and complements existing provision across the city and that local groups are able to use the Youth Zone to build their membership and promote themselves to young people, by running taster sessions in the Youth Zone and sharing pricing for daytime hire of facilities.
Suggested possible actions going forward
Expand the list of groups to communicate with – these should be as wide as possible including linking in with those who may already be mapping this in the town.
Raise awareness of Youth Zone, through social media, street teams, links with schools and use of technology (YouTube).
DELIVERING IN PARTNERSHIP AND SUPPORTING YOUTH WORK
Key themes and ideas…
Working in partnership: Develop and support youth work in Chorley by mapping all provision including specialist services such as those delivering employability, exploring joint opportunities for funding, training and volunteer recruitment.
Gwynne Furlong, Chairman of the Arts Partnership said: "We started back in 1999 to bring music, arts, dance and drama to the local community. 10,000 young people have passed through our doors over the last 10 years, but this building (Chorley Community Centre) is past its best and we are now thrilled we could end up with a building that's fit for the future, thanks to OnSide and the two councils."
Developing a culture of partnership: Make sure small groups are supported to access funding, joint planning for effective and complementary work and link with existing groups to access the Youth Zone and make use of its facilities. Develop information sharing and communication sharing systems to support this the creation of this culture.
Suggested possible actions going forward
Volunteering, build the capacity of volunteering within Chorley through coordinated communication and recruitment
Support a joint working ethos in Chorley to develop and support youth work in the town
Support co-production and joint funding opportunities
Host an 'aspiration themed' event in the Youth Zone to support the development, progression and aspiration of Chorley's young people
MORE IDEAS
We're always looking for more great ideas from our stakeholders, so of you have any additional comments or suggestions or just want to find out more about Youth Zone project please get in touch david.barton@onsideyouthzones.org.
Wigan Youth Zone has developed a partnership with Brook (young people's sexual health service) to support to the young people of Wigan from within the Youth Zone
In Mahdlo (Oldham Youth Zone) the local boxing club help run the boxing gym in the Youth Zone providing sessions, as well as using the facility as a place to recruit new members to join their boxing club
Manchester Connexions co-delivers a service for young parents from within The Factory (Manchester) Youth Zone, providing life skills, advice and employability support.
Wigan Youth Zone has developed a partnership with Brook (young people's sexual health service) to support to the young people of Wigan from within the Youth Zone
In Mahdlo (Oldham Youth Zone) the local boxing club help run the boxing gym in the Youth Zone providing sessions, as well as using the facility as a place to recruit new members to join their boxing club
Manchester Connexions co-delivers a service for young parents from within The Factory (Manchester) Youth Zone, providing life skills, advice and employability support
"I cannot wait for the Youth Zone to open, especially to see my own and other young people's creativity come to life. This is a great chance for all our ideas to be heard." Anne Marie Gaskell

"People have been telling us that our young people need somewhere to go where they can enjoy their spare time and to help them fulfil their potential, this Youth Zone would deliver something exciting for all young people across Chorley. By working together we could create a top class facility, giving our young people somewhere they could be proud of." Chorley Council Leader, Alistair Bradley

"The young people of Chorley deserve an OnSide Youth Zone which will give them a safe and inspiring place to spend their leisure time, and we are on the road to making that dream a reality." Chairman of Chorley Youth Zone, Andrew Turner