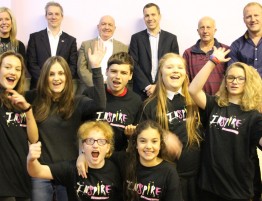 Local young people officially launched their brand 'Inspire – Do your thing' which will go down in history for years to come, as the name for Chorley's new Youth Zone.
Over 20 different names, ideas and designs were narrowed down to just six which then saw over 400 young people from across Chorley vote on their favourite with Inspire – Do your thing the clear winner with over 60% of the votes.
After months of hard work, the young people of Chorley, kitted out in their new-look t shirts (pictured), were joined at The Arts Partnership – the site of the new Youth Zone – by Arts Partnership Chairman Gwynne Furlong, newly appointed Youth Zone Chairman Andrew Turner, Chorley Council Leader Alistair Bradley, local designer Darren Hayward and our very own Dr Mark Ward.