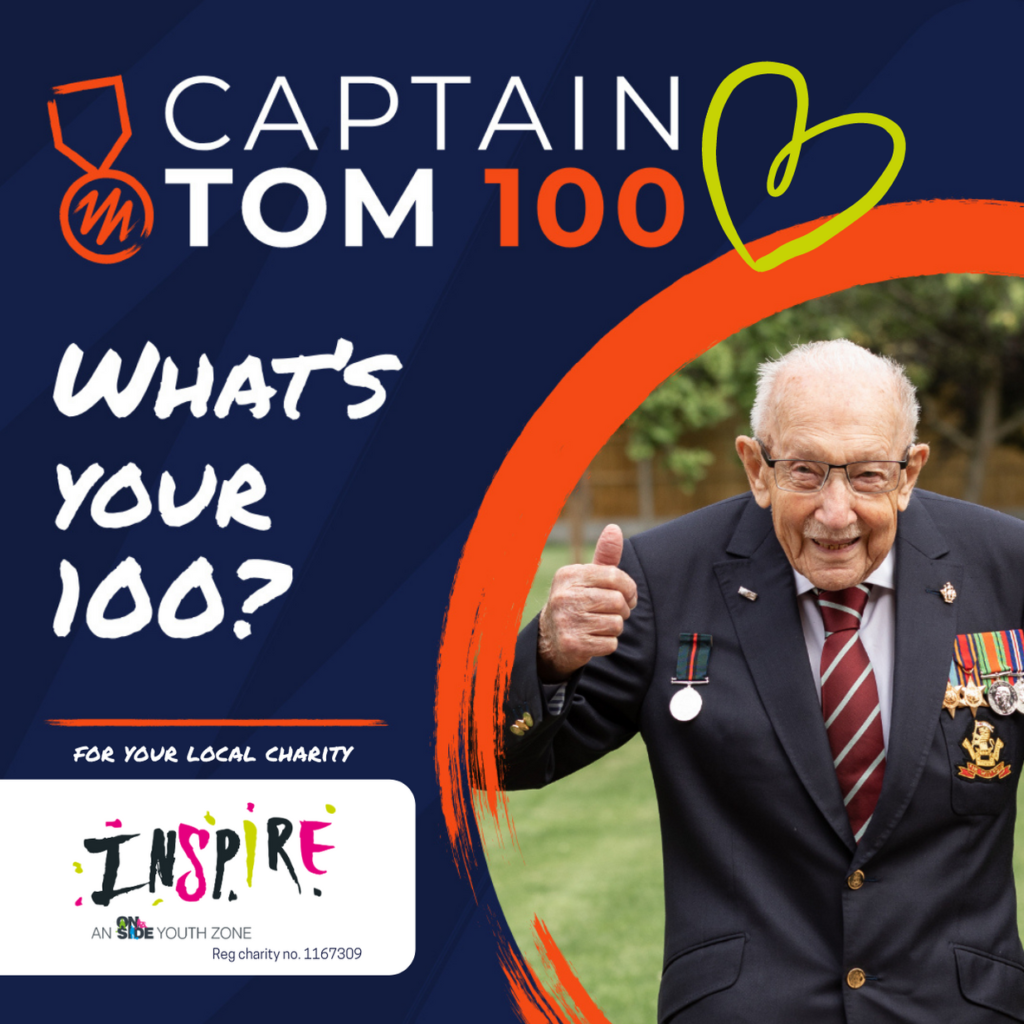 Following the outpouring of tributes and heartfelt messages since the passing of Captain Sir Tom Moore, his family pledged to celebrate his life with an event that everyone in the UK and around the world could be involved in. That event is the Captain Tom 100 challenge and Inspire Youth Zone is proud to be taking part.
We're inviting you, your family, friends and colleagues to take part in Captain Tom 100 from Friday, 30th April to Bank Holiday Monday, 3rd May to celebrate Sir Captain Tom Moore's amazing achievements and raise funds to support thousands local children and young people who call Chorley home. 
GET INVOLVED
All you need to do is be creative and dream up your Captain Tom 100 – an activity of your choice based around the number 100 – and do it any time and anywhere from Friday, 30th April to Bank Holiday Monday.
Your challenge could be walking 100 steps or running 100 metres, scoring 100 goals, baking 100 cakes, climbing 100 stairs, hopping 100 laps, drinking 100 glasses of water, flipping 100 pancakes – anything at all, inside or outside. It's your chance to do it your way! 
Remember to drop us a line at fundraising@inspireyouthzone.org or ring 01257 228888 and let us know what you have planned. 
FUNDRAISE OR DONATE
Once you've decided what you're doing, you can fundraise or donate to Inspire and share your 100 challenge on social media, using #CaptainTom100.
DOWNLOAD YOUR FUNDRAISING PACK 
Challenge ideas to get you started
SET UP YOUR FUNDRAISING PAGE
Visit our page on Virgin Money Giving
Click Fundraise Now
Create an account
Create your fundraising page! Add photos to make your page stand out, or if you're planning on doing a video or live stream you can post a link to that too
Share the link with your friends, family and on social media. Remember to tag Inspire and #CaptainTom100 wherever you post it!
DONATE TO INSPIRE
Visit our page on Virgin Money Giving
Click Donate Now
Choose an amount or enter your own
Leave a personalised message
Give yourself a pat on the back for being an amazing individual
If you prefer to support the Inspire Youth Zone Captain Tom 100 Challenge by text, we would love to receive your support here:
To donate £5 – Text: '100TOM' 5 to 70085  – Texts cost £5 plus one standard rate message
To donate £10 – Text: '100TOM' 10 to 70085  – Texts cost £10 plus one standard rate message
Remember, no matter how much you raise you are taking part in a fantastic celebration of Captain Sir Tom Moore's life and legacy, as well as helping to build a new legacy – one for the children and young people of Chorley.
From everybody at Inspire, thank you so much and we can't wait to see you do it your way