About Inspire
---
Chorley Youth Zone, named by young people as 'Inspire', is a purpose-built facility for the borough's young people aged 8 – 19, and up to 25 for those with disabilities.
The Youth Zone is located on Chapel Street and officially opened on Saturday 5th May 2018.
Inspire is based upon OnSide Youth Zones 21st Century Youth Facility Model, where young people from across Chorley have access to fantastic facilities for a cost of £5 for an annual membership and 50p per visit.
Inspire Youth Zone provides a fun and safe environment where young people can come and enjoy themselves and will enable young people to raise their aspirations and confidence to create a happier and healthier generation.
Check out the full range of activities set be on offer at Inspire from sports and arts, to music, drama and employability workshops – CLICK HERE.
Why Chorley?
---
Over 15,000 young people aged 8-19 live in Chorley
13.3% of children (under 16) live in poverty in Chorley
14.1% of children in school Year 6 are obese
Watch the vision for Youth Zones nationally below: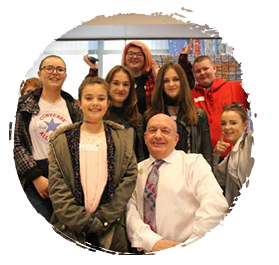 CREATING THE BRAND
---
In partnership with Fertile Frog Web Design, Chorley Youth Zone unveiled its new brand identity of Inspire back in November 2015, following extensive consultations involving over 400 young people from the borough. Developed to represent the values young people will attribute to their new Youth Zone, Inspire symbolises an 'inspirational' place where they can try new things, learn new skills and grow to be better people. Read all about it here.
YOUNG PEOPLE OF CHORLEY
---
Throughout the whole development of Chorley's Youth Zone, we involve young people as much as possible; it's their Youth Zone. Young people's active participation and influence in areas of brand identity, transportation, fundraising and the interior design of the Youth Zone are fundamental to our approach.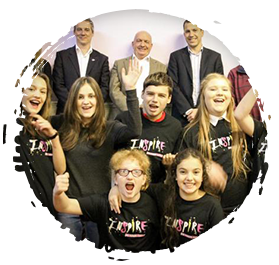 "I cannot wait for the Youth Zone to open, especially to see my own and other young people's creativity come to life. This is a great chance for all our ideas to be heard." Anne Marie Gaskell

"People have been telling us that our young people need somewhere to go where they can enjoy their spare time and to help them fulfil their potential, this Youth Zone would deliver something exciting for all young people across Chorley. By working together we could create a top class facility, giving our young people somewhere they could be proud of." Chorley Council Leader, Alistair Bradley

"The young people of Chorley deserve an OnSide Youth Zone which will give them a safe and inspiring place to spend their leisure time, and we are on the road to making that dream a reality." Chairman of Chorley Youth Zone, Andrew Turner